Westland Heating & Air Conditioning maintains a climate of family, performance and customer care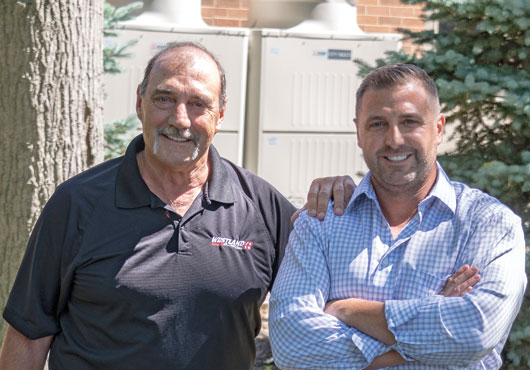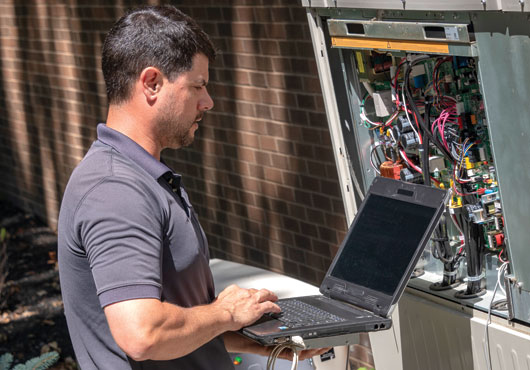 The father-and-son team of Jeff and Zack Mitchell has channeled its passion for the newest products and the best customer care to develop a family-focused atmosphere at Westland Heating & Air Conditioning (Westland).
Jeff and his wife, Debra, started the company in 1984 in Westlake, Ohio, after Jeff worked for several different residential HVAC and refrigeration contractors. "We found this to be one of the most fascinating industries to be in, but not all companies in it performed well from start to finish," Jeff says. "When we started our own business, we were determined to make it phenomenal. When Zack joined us, he had the same passion for high performance and high-quality care for customers and employees, and that helped expand our sights even more." From the beginning Debra managed the administrative and customer service needs while Jeff serviced customers in the field.
Steady Leadership
In 2009, Jeff turned over leadership to his son, Zack, who now is President; Jeff serves as Vice President and service manager. Debra is now retired and happily spending time with her grandchildren. The company takes care of customers with a combination of old-fashioned customer service and cutting-edge technology. "We've had a history of looking at new, innovative ideas," Jeff says. "We evaluate new systems or processes from a performance and economic standpoint and are not afraid of bringing on new technology. The challenge is the learning curve, but the benefit for our customers is worth it. Plus, we stand behind everything we do and work with our manufacturers and customers to be sure everything is right. Sometimes it costs us money, but it's worth the gain." When Zack started working for the company in 1986, he was 14 and eager to learn everything. For four years, he worked part time cleaning the shop, working on inventory and stocking the trucks. He slowly transitioned into joining his dad and other techs on service calls. "I had a chance to go to college and play football, but I knew my passion was with the heating and air conditioning business, so I decided to stay with it and go through what my dad called 'the Jeff Mitchell Technical Institute,' " Zack says.
He also attended a number of factory training sessions and service/sales seminars where he found his niche. "When Zack got more involved in the company, he went toward his passion for commercial construction, focused on sales there and expanded the business dramatically," Jeff says. "Now it's mostly repeat business from contractors and building owners. Today, we're about 85 percent commercial and 15 percent residential."
Specialized Systems
Early on, Westland became a leader in variable refrigerant flow (VRF). This HVAC technology uses refrigerant as both the cooling and heating medium and is conditioned by a single condensing unit. VRF gives building owners the ability to simultaneously have different rooms in a building use independent high-efficiency heating and cooling, which lends itself to both new construction and rehab, Jeff says.
"A lot of our projects are building rejuvenations, where we take old office or warehouse buildings and make them into multiple operations or small businesses. In this situation, the typical equipment is not economical to install. The VRF is ideal for buildings like these that have areas with different needs."
Westland runs VRF in it offices and high-tech boilers in its warehouse and shop, which gives its technicians firsthand experience on how these systems operate. Not all HVAC contractors are as dedicated to the complex VRF system and choose not to offer it. "VRF requires special training and a commitment to high quality. It involves very precise calculations and start-up procedures that some companies are incapable of or unwilling to do," Zack says. "For a building owner, the initial investment can be higher, but it offers a payback in energy savings of 10 years or less, which makes it worth it. Facilities that are trying to get LEED certified use this as a way to meet some of the energy-efficiency levels on both new construction and rehab work."
Safe and Satisfied
Customer satisfaction is important at Westland. The message is prominent in its ads, constantly discussed within the company and supported by training and safety programs. "We make customers' lives easier by giving them quality HVAC systems and the comfort that all is working well," Jeff says. "That's why we evaluate new technology and train our technicians on every step from install to service. We use in-house plus manufacturer training at their facilities. We dedicate thousands of man hours to staff training each year because we feel it's important for staff safety and customer satisfaction."
Safety is at the core of all training at Westland. Its offices include a classroom where suppliers, manufacturers and safety companies come to lead training sessions. Westland also contracts with a third-party safety company, Safety Controls Technology, to conduct impromptu safety audits. "We invest in having the right equipment for our teams and make sure everything is done in the utmost safe manner," Zack says. "We do not allow our guys to attempt anything dangerous. To be sure everything is okay, Safety Controls goes unannounced to our jobsites to perform safety audits."
The company's dedication to customer satisfaction is a team effort. "As we interview people, we look for a passion for this profession besides a good skill set," Jeff says. "This is something you don't just do 40 hours a week and leave behind. Many of our staff choose to do some research and training after hours and have a real passion for the industry. That's the culture that both Zack and I had over the years, and it transferred to our staff. We want to be the best and have dedicated the time and effort to do that."
Westland currently employees 65 people, with tenure at the company ranging from 6 to 22 years. "Our technicians are highly trained, with certifications from multiple manufacturers as well as full training and certification for full VRF systems and pool dehumidification systems," Jeff says. The team effort at Westland is supported in other ways, notes Steve Showalter, operations manager. "About four years ago, Zack wanted to provide more things for employees, so he had a complete gym put in here so anyone can work out. It helps develop the team atmosphere and encourages us to stay fit and have fun," Steve says. "Each month we also have a company luncheon to discuss team-building programs and ways to give back to the community. The result is that more of us get together for bonding time and for community involvement."
Last year, Westland teams participated in the Harvest for Hunger, an annual awareness campaign aimed at fighting hunger in 21 of Ohio's counties. They have also supported the annual Marine Toys for Tots drive and recently donated labor to install a new HVAC system at a local home as part of a St. Jude Dream Home Giveaway. The equipment was donated by Trane through the company's national program.
Future Generations
As Zack continues to manage Westland, the company is determined to have future generations of the Mitchell family and their employees' families be involved. "We want to move forward with the same foresight we have of taking care of our customers. We have fathers and sons working here for a long time. We wouldn't be in the position we are today without all the hard work of our wonderful team members. There's a great feeling of mutual respect here and I feel that's a sign we're doing things the right way," Zack says.
This desire to do the right thing has developed a combination of old-fashioned service and the latest technology that gives customers the best comfort and sets the standard for the next generation to follow.